You have worked really hard in your career. In the beginning, you:
outworked your colleagues
signed up for the hardest jobs
increased your various skillsets
sought out mentors
observed those who had the positions you wanted
learned what you needed to be valuable in your industry or company
And now you have climbed that steep "ladder". Maybe you've excelled in your realm within the corporate world and have gained the respect, compensation, and title you've wanted. Maybe you've become your own boss and have ownership over your time as well as the financial freedom you've sought for so long.
Congratulations!! That's a massive accomplishment
.
But it doesn't end there does it??
What are you feeling now? Possibly:
Uncertainty of what the future holds for your position or business
Fear that the newbies are going to outrun you and take your position
Lack of clarity about what the next step or challenge might be…where do you go from here?
Possibly you still battle imposter syndrome after all these years…was it luck and hard work that got you here or are you really an "expert"?
This position and these feelings are not unique to only you.
You are not alone
.
Many of my clients come to me with similar stories. They usually have another commonality:
It's been years since they've focused on their own development.
When they were starting off in their careers, development was a priority as they climbed the corporate or organizational ladder. They used development as a tool to accomplish their goals of a certain position, pay scale, etc.
Since they've arrived at their higher level of leadership, development stopped being the priority for some reason. Sure, networking and training for various technology or legal changes still take place, but truly developing out the soft skills needed to become an even better leader often gets put on the back burner.
Does development even matter once you've accomplished your serious career goals??
Take a look at this sketchnote by Tanmay Vora. I was introduced to this work through Janet A. Hoffmann at HR Aligned Design.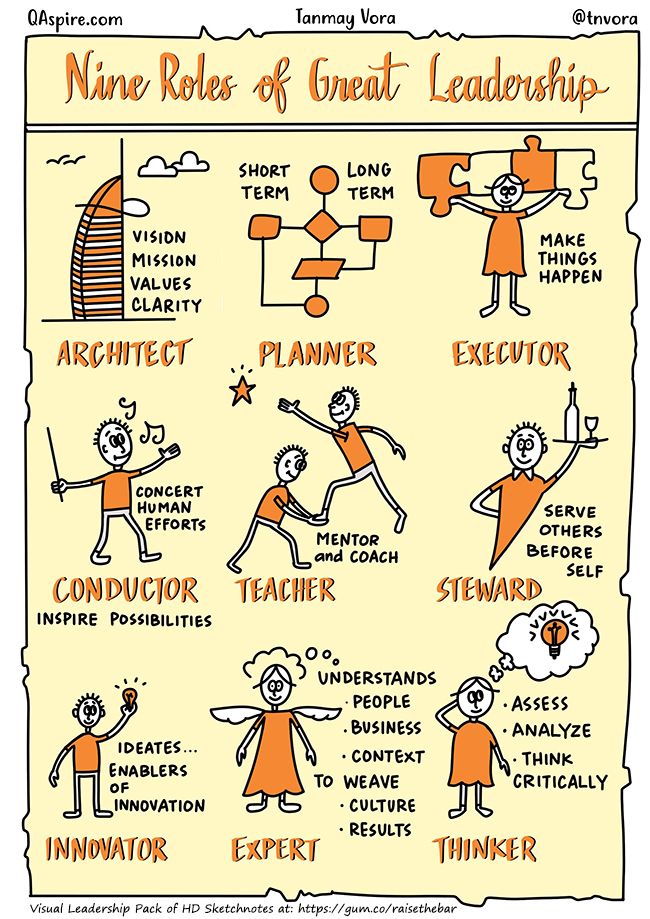 Read about the various roles of leadership explained above.
Which roles resonate with you?
These are the roles you have most likely settled into throughout your advancement in your career. Knowing and honing these natural giftings might have been very beneficial to you so far.
Think about how developing out other roles can add to your organization, team, and personal achievement
.
This is the part of leadership that gets really fun, challenging, and rewarding!
Leading with skills from more than just one or a couple of roles can have a great impact on the success of your business and team. But it takes some time and focus to develop out areas you might have neglected for a while.
So many leaders stop focusing on their own development once they reach a senior-level position.
Excuses to not focus on our own development range from "can't find the time" to "it just gets forgotten". While it's certainly hard to continue to make time for ourselves, especially when we are accomplished in our career. I suggest making your development a top priority as we head into the new year.
Making development your priority will help
:
Provide clarity on exactly what kind of leader you are
Define how you can use your leadership to increase your accomplishments even further
Create new goals for your career… keep challenging yourself!!
And MUCH More!
If we challenged ourselves to develop out one or two areas that could use some focus, what would your goals be for 2021?
What would you need to do in order to improve in these areas?
It's okay if you don't know, but I suggest we find out!
As we close out 2020, what skills have we been able to add to our toolbelt this year?
Before we close out the year, let's not only plan for 2021 but
let's celebrate our successes in 2020.
Success can look like surviving a pandemic, maintaining a company, leading a team well, and numerous other ideas. Take some time to list out what you are proud of and celebrate those things. Furthermore, let me know! I love to help celebrate any win with others and would love to hear how you have progressed or survived this year well.
No matter the level of achievement you have attained, there is still more to develop that will lead you to the next level.
That next level might not be clear until you focus on your own development.
I've personally experienced this magic many times!
Take advantage of a
free 45-minute coaching session
with me. Let's gain some clarity on how you can rock the next phase of your career.
Feel free to reach me at
[email protected]
. Read more about what I do
here
Discover how you can develop your communication skills in leadership by reading my book:
Uplifting Leaders! How to Have Difficult Conversations that Motivate and Inspire
. In this book, you will learn the principles and tools utilized by the top communicators in the business! Develop new ways to have common conversations that tend to be uncomfortable and difficult. Even seasoned leaders and business owners have yet to master these skills. Take time to develop these skills and increase productivity and connection!
Aleta Maxwell is a certified executive coach, best-selling author, leadership development content creator, as well as CEO & Founder of Uplifting Leadership.

Aleta has held multiple senior-level leadership roles over the past 25 years in the hospitality industry and non-profit companies.

While partnering with leaders at all levels of management, Aleta utilizes techniques like curiosity, compassion, and courage to help clients become more aligned with their purpose and values. Using these techniques,
Aleta collaborates with her clients to uplift their specific leadership skill set and hone the tools needed to develop brand ambassadors in their employees.
Complimentary 45 Minute Consult
One insightful conversation can make a significant difference.

This could be it!
Thank you!
Aleta will contact you shortly
Free Webinar
Enter your name and email below to instantly access our free 15min webinar on Getting Hired and Getting Noticed by Employers.
Free Webinar
Enter your name and email below to instantly access our free 15min webinar on Becoming a Successful Leader.