Course overview:
ready. set. work.
Nail your next career move with confidence.
Develop the key skills needed to get hired and get noticed in your new position.
Feeling nervous about entering or re-entering the job market? Maybe you feel like...
You won't get hired.
Just thinking about the whole process makes you nervous and you lack confidence in your ability to nail the interview.
You're not qualified.
You're worried you don't have the professional skills necessary to succeed and will miss out on opportunities to move up in your career.
You're not ready.
Dealing with workplace relationships with coworkers and a new boss, on top of meeting the demands of your new role, can be overwhelming.
we know how you feel.
Entering the workforce doesn't have to feel this stressful.
You just need to develop key skills that you can use (no matter what job you're applying for) and that will set you apart from everyone else.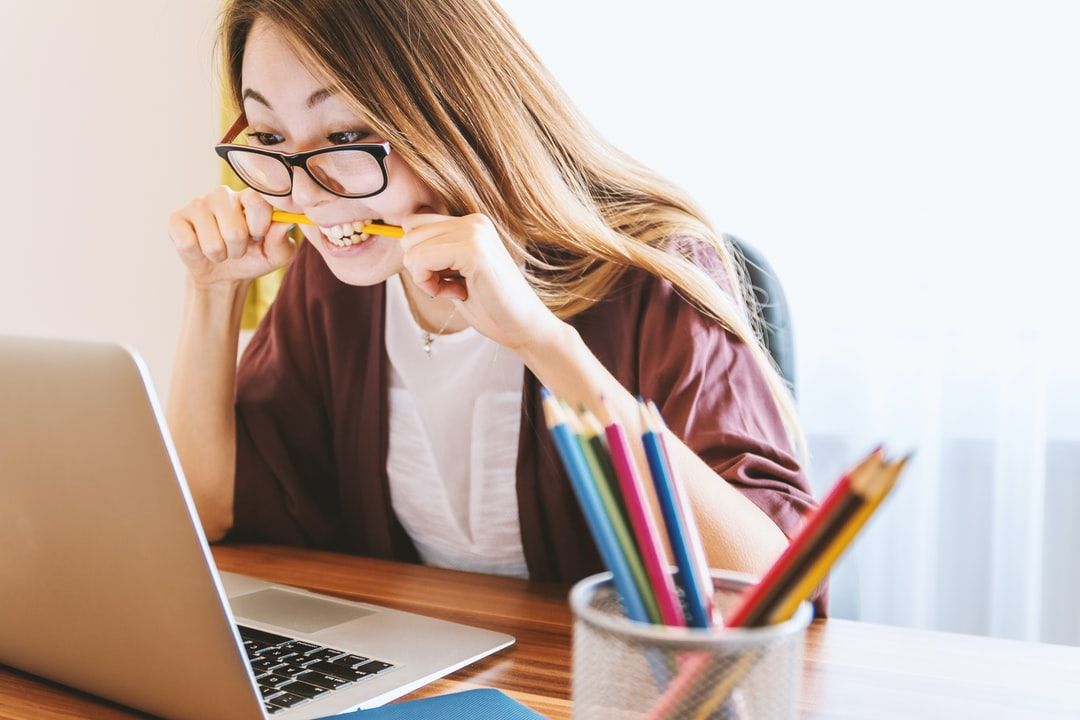 Ready. Set. Work.
This online program teaches you how to implement key professional skills - such as communication and time management - so you can excel in your role and become a stellar team member.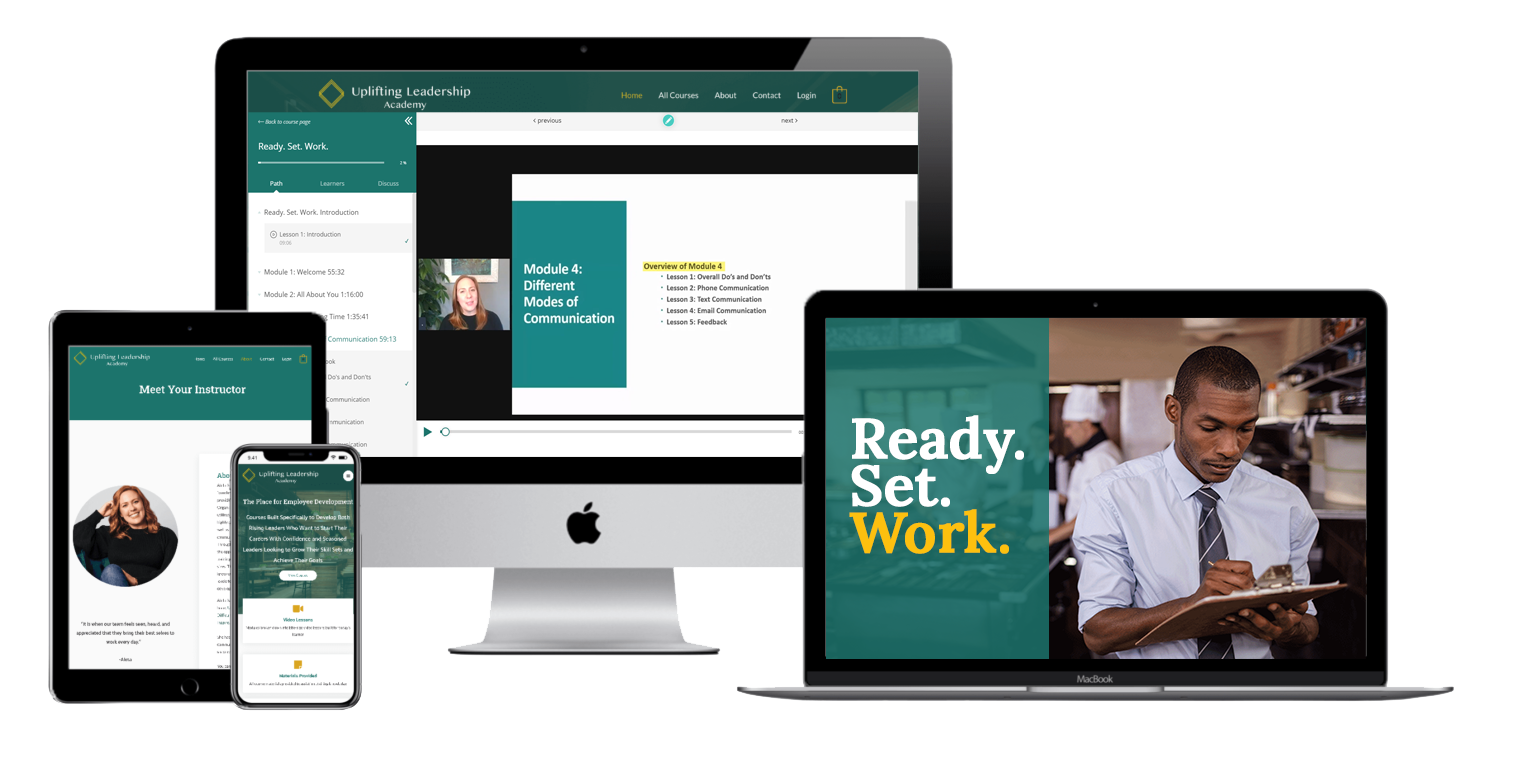 Video Lectures
8.5 hours in total
Certificates
1 Completion Certificate
What's included in this course?
Certificate of Completion
Get clear & confident.
Be fully prepared to take
ownership of your career and develop the skills to advance in your new role.
Eliminate confusion.
Get rid of the stress & confusion around how you're 'supposed to' behave in front of your coworkers and supervisors.
Stay supported.
Join our online student community and be part of a supportive network of like-minded professionals.
Nail your next interview.
Get hired and/or promoted and get noticed. Your supervisors will begin to see you as a major asset to their company.
Ready. Set. Work. Course Curriculum
Take Your Career To The Next Level Today!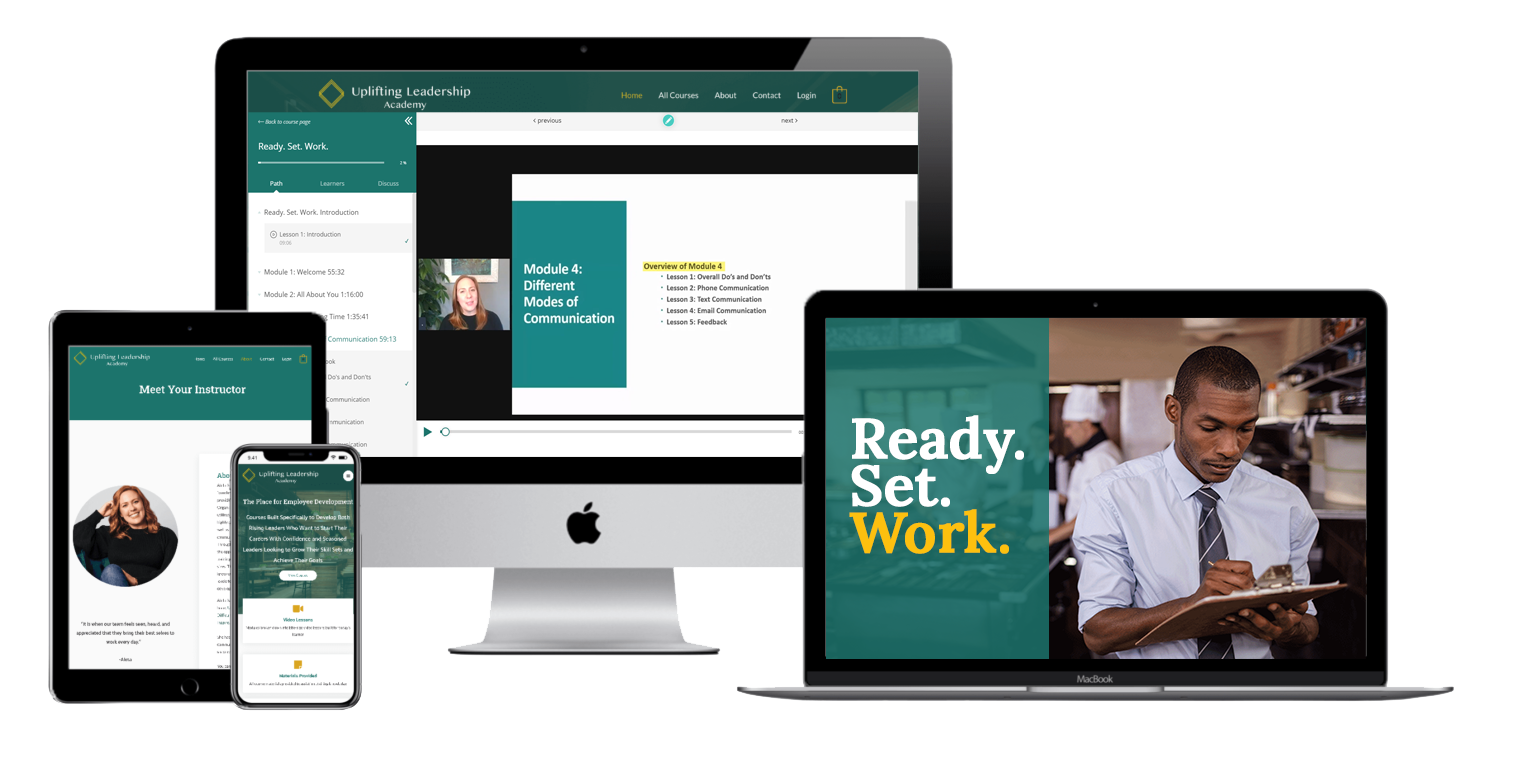 Meet your course instructor
Aleta Maxwell
I know what it feels like to have to sell yourself when entering or re-entering the workforce. And I know what it feels like to worry whether you're saying and doing the right things. This is why I've spent
over 25 years working in highly competitive environments to help others build their confidence and develop the professional skills required to move up in their careers.
As a professional leadership coach and former CHRO, my ultimate goal is to ensure you get hired and get noticed for the skills you bring to the table. This is a key factor that has helped me successfully lead teams as big as 700 people at a time, resulting in a thriving work environment and greater job satisfaction.
Investing in your development means investing in yourself and your future.
Let me help you develop those key skills that you can take with you anywhere, so you can perform at your best and achieve your career goals.
Aleta Maxwell
Leadership Coach & Founder
KIND WORDS
What Our Students Are Saying
I've enjoyed every last piece of advice given throughout each lesson. I look forward to applying these tips to my everyday lifestyle as well. Most of all my favorite quote from the course, HAS to be "energy determines intention", thank you so much!!!!
I've learned a lot about myself and how to work efficiently and I believe I will hold some or most of the things I've learned here and take it with me to progress my life. Thank you.
I've learned how to develop oneself in the workforce and what Hazzard to look for when improving. I've learned how to be an advocate for myself in the workforce. I liked how we had discussions about how to act, achieve and perform, better in a work environment so that we can reach higher positions.
I have learned a great deal on how to present and pitch myself in the best possible way and to better support the team around me, not just myself.
Learned how to work on my goals better. I enjoyed learning on how to better myself. I learned that there are better ways to deal with people in in difficult situations. I enjoyed learning how to be a better person.
This course helped me improve my time management, interview skills. and how to properly approach my boss with questions. it also made me feel more open and comfortable with myself to communicate with not just my boss but everyone at work if any goes wrong on the job site. This course has shown me how to manage, interview, and properly ask questions to improve myself at work. This course also has been really helpful because now I'm more confident at work.
3 Steps

To Fully Prepare For Your Next Career Move
Buy

The Course
When you invest in this program, you'll receive instant access to all modules so you can start learning right away.
Develop Your Skills
Upgrade your skills and discover the strategies you need to take to reach your career goals with confidence.
Level Up In Your Career
Feel confident and fully prepared to get hired and get noticed in your next interview or job.
Complimentary 45 Minute Consult
One insightful conversation can make a significant difference.

This could be it!
Thank you!
Aleta will contact you shortly
Free Webinar
Enter your name and email below to instantly access our free 15min webinar on Getting Hired and Getting Noticed by Employers.
Free Webinar
Enter your name and email below to instantly access our free 15min webinar on Becoming a Successful Leader.